I first heard Caroline Lavelle in the wee small hours of the morning back in the early 90s when she was featured and interviewed on NPR's World Cafe. She performed "Dream of Picasso" and a few other songs from her album,
Spirit
. It was love at first listen. In those pre-mp3 days, I kept a blank tape in my stereo to record songs I liked from the radio (you know you did it, too, admit it!). I hit record after the opening notes of "Dream of Picasso", knowing I'd want to hear it again. I bought
Spirit
soon after and it's still a favourite album of mine over a decade later.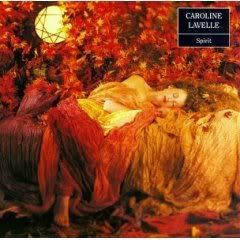 Lavelle's music is often classified as either Celtic or New Age, or both. It definitely has elements from those genres, but her music holds a depth and intense, almost trip-hop beat that is absent from other Celtic/New Age acts like Enya and Clannad. This is most likely due to the influence of William Orbit, who worked on many of the songs on the album. Caroline also has a powerfully deep, rich voice that reminds me a little of PJ Harvey. In fact, back when I first heard her on World Cafe, I thought she was PJ Harvey until she introduced herself.
Spirit features traditional Celtic songs like "Moorlough Shore", as well as a cover of Joni Mitchell's "A Case of You" reworked for what is simultaneously a modern and ancient sound. The album also has several original songs written by Lavelle and William Orbit, like "Dream of Picasso" (written, as I recall, after a dream she had of a recently departed friend).
In addition to her solo work, Caroline is an accomplished cello player who has collaborated with bands like The Pogues and The Chieftains. I saw her perform with The Chieftains and Allison Moorer a few years ago, and her voice is even more captivating live.
Buy @ Amazon