Elizabeth & The Catapult will be opening for Amanda Palmer of The Dresden Dolls when she plays
Paradise
next month. Their 2005 self-titled, six song EP is an eccentric collection of the quirky and the beautiful.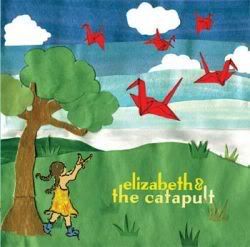 Elizabeth & The Catapult are singer-songtress Elizabeth Ziman, her piano, and her four bandmates on guitar, drums, bass, and percussion. Occasionally the band is joined by six other musicians who lend their respective cello, viola, flugelhorn, bass, violins, and trumpets. As you can probably tell from that bit of information, they make some very interesting and diverse music together.
The EP opens with "Waiting to Kill", which twirls around with several of the instruments listed above. The song is especially heavy with strings and percussion. Though most of their songs are quite different from The Dresden Dolls, they do at times take on a similarly anachronistic, vaudeville mood.
"Right Next To You", "My Goodbye", and "Golden Ink" are much softer, prettier tunes, with Elizabeth's smooth vocals overshadowing the music.
"Momma's Boy" and "Devil's Calling" are jaunty carnival tunes with dark undertones that again hint at the cabaret side of The Dresden Dolls, but both songs are upbeat enough to retain originality. "Devil's Calling" is especially bold, with a jazzy mix of Elizabeth's strong vocals, piano, and all that brass.
Elizabeth & The Catapult Official Site
Elizabeth on Myspace (Download "Momma's Boy" there)