Abigail Washburn is yet another
Mountain Stage
discovery. Her banjo fueled sound falls somewhere between Appalachian folk and bluegrass. Her 2005 album,
Song Of The Traveling Daughter
, is a 14-song collection rooted in Americana yet inspired by Washburn's time in China. Her time away from and return journey to America moved her to embrace the most traditional instruments of the country: the banjo. Accompanying the three varieties of banjos that Abigail plays on the album are fiddle, cello, guitars, upright bass, whistles, Uillean pipes, finger cymbals, djimbe, drums, tambourine, accordian, and a steel guitar courtesy of guest player, Bela Fleck.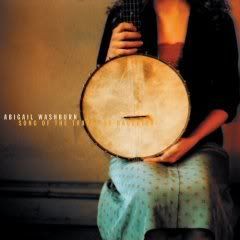 The album opens with "Sometimes", a whirling and upbeat bluegrass tune laden with banjo and fiddle. The softer "Rockabye Dixie" shows off Abigail's pretty voice, which hints at a yodeling range on the chorus.
"Coffee's Cold" is my favourite song on the album. No one who knows me would be surprised. It's a jaunty tune that combines an old fashioned, depression era story in song style with a bluesy sound.
"Red & Blazing" is a more traditional sounding folk ballad. The song was partially inspired by Buell Kazee's 1928 recording of "The Dying Soldier". "Single Drop Of Honey" features Abigail Washburn and Megan Gregory singing acapella. Though the lyrics are of a lost love, the song has a gospel element to its melody.
"Eve Stole The Apple" brings the strings into focus for most of the song, with a strong drum beat pushing forward toward the end. The song was inspired by "Doc Boggs and the singing of Vera Hall".
"Who's Gonna Shoe" is a traditional song also known as "Green Valley Waltz". It was a southern folk ballad originally taken from the Scottish "The Lass Of Rock Royal". Washburn learned this version from Woody Guthrie and put her own touch on the arrangement.
"Backstep Cindy/Purple Bamboo" is a banjo instrumental and another traditional song rearranged by Abigail. "The Lost Lamb" is slowed down and anchored with strings, with Abigail singing in Chinese.
"Nobody's Fault But Mine" is a cover of the traditional tune probably best known as sung by Nina Simone. Other than the banjo, it's a standard take on the song. The album ends with its pretty and mellow title track, which was inspired by Meng Jiao's "Song Of The Traveling Son".
I was not granted permission to share an mp3 here, but you can stream songs at MySpace.
Abigail Washburn's Official Site
Buy the album