The new album from Butch Walker And The Lets-Go-Out-Tonites is quite a departure from the acoustic, singer-songwriter sound of his previous work. Butch still writes all of his songs, but
The Rise And Fall Of
is a swaggering Glam Rock extravaganza.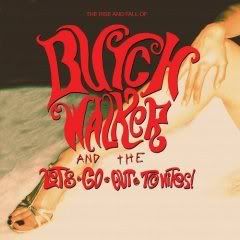 "Hot Girls In Good Moods" starts the album off with a bang, featuring handclaps, grinding guitar, Butch's throaty lead voice, and echoing backup vocals that call to mind T-Rex.
"Ladies And Gentleman…'The Lets-Go-Out-Tonites!'" combines a Brit-pop sound with a lavish Bowiesque chorus. "Bethamphetamine (Pretty Pretty)" is a very catchy pop-rock tune that would be radio friendly if given the chance.
"Too Famous To Get Fully Dressed" brings back the retro rock sound with a pop-rock chorus. I think this is what the Rockstar Supernova (Butch produced their album) guys want to sound like.
"We're All Going Down" is slower and softer, with the music slightly muffled beneath Butch's languid vocals. "Dominoes" and "This Is The Sweetest Little Song" are even softer piano and guitar melodies that sound more like the Butch Walker of Letters.
"Paid To Get Excited" kicks it back up with a harder beat beneath political and social commentary. "The Taste Of Red" has a lighter pop sound blended with its rock. And "Rich People Die Unhappy" has an alterna-country feel to it courtesy of pedal steel.
"When Canyons Ruled The City" finds a balance between the big rock sound and the softer, acoustic side, adding a choir of voices for the finale of the album.
Butch Walker's Official Site
Butch on MySpace
Buy the album