Kristin Hersh's
Learn To Sing Like a Star
will be released on January 23rd, and is now available for pre-order at Amazon (link below). The album is her debut on the Yep Roc label, but it is just the latest addition to her impressive catalogue (21 albums to date). From her days with Throwing Muses to her first solo efforts and the underrated 50 Foot Wave, Kristin has maintained a track record of solid work and artistic integrity, as well as a genuine appreciation for her own fans. Now with her return to the solo spotlight, Hersh combines the hard rock rhythms of her band days with the softer poetic side of her older solo albums.
Hips And Makers
and
Strange Angels
were two of the best albums released in the 1990s. The new material doesn't hold quite the same magic as those albums, but it comes pretty close.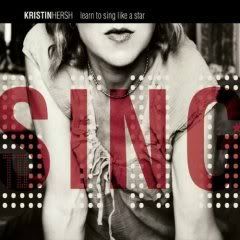 Learn To Sing Like a Star features Throwing Muses drummer David Narcizo and The McCarricks on strings. The album opens with "In Shock", which sounds like a 50 Foot Wave leftover. That's a compliment. Kristin's raspy vocals ebb and flow over a grinding rock beat.
"Nerve Endings" takes us back to the days of Hips And Makers with its Gothic rock rhythm, whispered vocals, and building strings. "Day Glow" begins with hard bass and drum beats with a screeching finale that makes me daydream of a Kristin Hersh and Diamanda Galas collaboration.
"Ice" brings back the strings for a softer sound. "Under The Gun" begins with the strings, but the rock kicks back up at the chorus with just a touch of pop.
"Piano 1" is a beautiful piano instrumental. Though rock is obviously a large part of Hersh's talent, I think I prefer this more eccentric and artistic side. "Sugar Baby" resurrects Kristin's signature rock sound.
"Vertigo" is a favourite, adding acoustic guitar interludes to the rock and strings mix. "Winter" is another highlight, layering tubular bells and strings in its guitar rock. "Wild Vanilla" has a retro element to its rock beat. And "The Thin Man" closes the album with a pretty yet solemn tone.
Pre-Order the Album at Amazon