Natalie Merchant's
The House Carpenter's Daughter
is a collection of traditional and contemporary folk music. The rustic 2003 release, the first on her own Myth America Records label, was a drastic departure from the alterna-pop of her 10,000 Maniacs days and the sweet, smooth melodies of her first three solo albums. The idea to record folk songs grew from the traditional tunes Natalie and her band would play when warming up for live performances.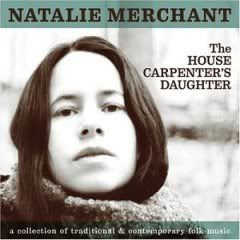 The melancholy "Sally Ann" and "Crazy Man Michael" float along on Natalie's unusual lilt as well as the wailing strings and heartbeat percussion of her backing band.
I had the extraordinary opportunity to witness Natalie's hypnotizing live performance of the chilling union anthem "Which Side Are You On?" at Mountain Stage when she was promoting the Motherland album. More than any of her original tunes, this folk cover shows off the impressive range of her unique voice.
"Diver Boy" resonates with a deep bass rhythm, pounding percussion, and Natalie's bottomless voice. "Soldier, Soldier" is another highlight with grinding blues guitar and even bluesier male/female vocals.
"Bury Me Under The Weeping Willow" and "Down On Penny's Farm" kick the tempo up with bluegrass strings and foot tappin', square dance beats. "Owensboro" is another that I love, with a simple but heartfelt melody.
The closing track of the traditional "Poor Wayfaring Stranger" isn't vastly different from any of the thousands of covers we've heard before, but it is as soulful and pretty as any other version.
I think what impressed me most about this album, beyond the unquestionable beauty of its songs, is that Natalie Merchant choose to record and release folk music that she truly loves on her own label rather than continue down what was probably a more lucrative pop career on a major label. There aren't many modern acts who display such artistic integrity, and even fewer who can match that integrity with this kind of phenomenal talent.
Natalie Merchant's Official Site
Buy the album