A few weeks ago I heard a gorgeous piece of Native American flute music playing on
Folk Alley
's internet radio. The music was the work of R. Carlos Nakai, a flutist of Navajo-Ute heritage. I immediately sought out several of his albums, including his collaboration with Hawaiian slack key guitarist, Keola Beamer.
Our Beloved Land
features the hauntingly beautiful instrumentation of both musicians, along with Beamer's soulful Hawaiian vocals and some Navajo chanting by Nakai. The liner notes of the album give English translations of the epic mythical and historical stories told within the Hawaiian lyrics.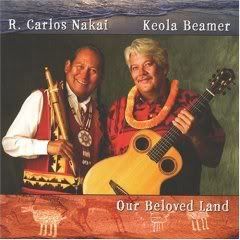 The album opens with the captivating traditional Hawaiian song, "Waipi'o Paka'alana". The song features conga, conch shell, double gourd drum, and other percussion in addition to Nakai's Native American flute and Beamer's Hawaiian slack key guitar.
The traditional "Aia I Moloka'i Ku'u 'Iwa" picks up the pace a bit and adds ukulele and mouth bow to the menagerie of instruments. Here the song is presented in shortened form, but the longer version is apparently performed as a hula by two rows of chanting dancers.
R. Carlos Kakai lends his vocals as well as his flute to Keola Beamer's original composition, "Ka Honua (The Earth)", while Beamer's wife, Moanalani, supplies whirling ground whistle.
Moanalani plays mouth bow and bamboo tube drum on the traditional "Ke Ha'a Ala Puna" and bamboo rattle on "E Manono". The Spanish influenced "Ka Mano (The Shark)" is an ode to the Beamer family guardian spirit.
Nakai supplies the Navajo chant on the enchanting "Ke Ao Nani (The Beautiful World)", originally composed by Hawaiian scholar Mary Kawena Puku'i. The track also features Beamer's vocals and guitar, with Moanalani on water-worn stones.
Nakai and Beamer co-wrote "Lapule (Sunday)", which again features Nakai's flute and has Beamer playing Hawaiian nose flute over a recording of the Hawaiian rainforest. Nakai's voice again takes the spotlight on "The Good Road", based on a traditional Navajo chant.
It would be impossible to accurately describe the rich beauty of this album's music, and unfortunately I was not granted permission to share full mp3s. But you can hear samples from the album below.
R. Carlos Nakai & Keola Beamer – Waipi'o Paka'alana
R. Carlos Nakai & Keola Beamer – Aia I Moloka'i Ku'u 'Iwa
R. Carlos Nakai & Keola Beamer – Ke Ha'a Ala Puna
R. Carlos Nakai's Official Site
Keola Beamer's Official Site
Buy the album