Long before The Dresden Dolls begin twisting cabaret and Vaudeville musical styles with morbid and hilariously perverse lyrics, there were Tiger Lillies. The band which Marilyn Manson recommended for weddings consists of the trio of Martyn Jacques on vocals, accordian, and guitar, Phil Butcher on bass and piano, and Adrian Hughes on drums and percussion. Their 1994 debut album,
Births, Marriages, And Deaths
, also featured Steve Bently on violin and trumpet and Kevin Armstrong on guitar. The disc has 25 tracks of old-fashioned music, castrati toned vocals, and lyrics that can make you laugh, blush, and applaud all at once.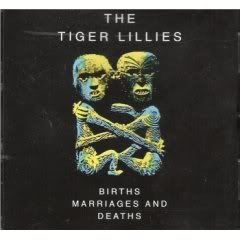 This review would be endless if I picked apart each individual track, so I'll keep to the highlights.
"Boatman" and "Normal" have a somber, slow tone to the music beneath Martyn Jacques' high pitched vocals. The comically condemning "Hell" is much more upbeat.
"Heroin And Cocain" and "Bones" are my favourites on the album. The jolly music and vocals only add to the morbid humour of the lyrics.
"Prison House Blues" and "Jacky" are heavy with accordion and blues. The cover of "Autumn Leaves" is pretty and melancholy. "Open Your Legs" is every bit as devoid of class and full of fun as the title would suggest.
"Her Room" and "Haunting Me" have stirring strings and jazzy horns. "War" sounds almost like a less literary Decemberists song. "Wake Up" has a foot tappin' jazz beat.
"Lily Marlene" was the first Tiger Lillies song that I ever heard and probably their prettiest tune. Though it's not exactly a happy song, it is deceptively sweet and innocent compared to the rest of their catalogue.
Tiger Lillies – Heroin And Cocaine (mp3)
You can hear samples from the album online here.