I've been waiting in eager anticipation for the release of Amy Winehouse's second album,
Back to Black
, ever since I heard the chorus of "Rehab" last year. The rest of the album is even better than I expected. Amy is often likened to Etta James, and I'm shocked to say it's an accurate comparison. There are also hints of Nina Simone, Shirley Bassey, and Lauryn Hill. Amy's voice pays tribute to the great divas of the past and present and her music is often an homage to classic jazz, funk, and soul, as well as girl-groups of the 50s and 60s. But her lyrics more often display her own unique brand of humour and boundless affection for booze and weed.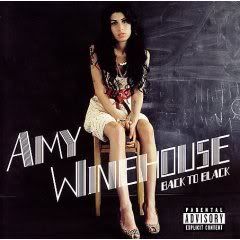 Tracks like "Wake Up Alone", "He Can Only Hold Her", "You Know I'm No Good", "Me & Mr. Jones", and "Back To Black" layer Amy's deep, rich vocals over retro- jazz, pop, doo-wop, and soul. While songs like "Some Unholy War", "Just Friends", and "Tears Dry on Their Own" have more of a modern spin. Then there's "Addicted" and "Rehab", which combine classic R&B melodies and sincere vocals with funny lyrics about buying weed and Amy's refusal to get sober.
I've been unable contact Amy or her label to ask permission to share an mp3, but you can hear samples at Amy Winehouse's Official Site and MySpace page. I truly think that anyone with good taste in music coupled with a twisted sense of humour would love this album.
Buy the CD