Mary Weiss was the lead singer of the Shangri-Las, the 1960s girl pop group best known for their hits "Remember (Walking In The Sand)" and the BBC-banned "Leader Of The Pack". Weiss pretty much disappeared from the music industry after the Shangri-Las broke up in the late 60s. After a 40 year hiatus, Mary now returns with her first solo album.
Dangerous Game
is a collaboration with The Reigning Sound that manages to bring the best elements of nostalgic retro-pop, garage rock, and a little bit of punk into the modern age.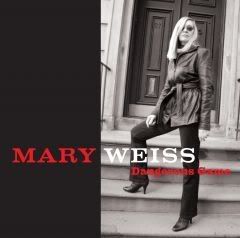 The real appeal of lighter throwback songs like "My Heart Is Beating", "Nobody Knows (But I Do), and "You're Never Gonna See Me Cry" is the shimmering, catchy retro-pop of the music rather than Mary's voice. But you have to respect anyone who emerges from such a musical hibernation to record an album this good, one that is so exquisitely different from anything else out there today.
I must admit, though, that the initial excitement I felt over this disc slowly faded on repeated listens. The music remained captivating, but the novelty of "The Return of Mary Weiss" wore off on closer inspection. But that's not to say that her singing or the album as a whole is bad – far from it. There's still a throaty depth to her voice that's rare these days and the CD is one of the best I've heard in a very long time, it's simply a matter of time diminishing her vocal range. Mary actually sounds a bit like Patti Smith does now, with an experienced husky tone replacing the soaring power of youth.
It's when Mary Weiss unleashes the defiant stance that characterized her work with the Shangri-Las that the album really takes off. The acerbic wit of "Cry About The Radio", the post-breakup Ramonesque rock of "Don't Come Back", and the softer nonchalance of "I Don't Care" successfully fuse retro-pop melodies with a punk-rock attitude.
Another highlight is the remake of "Heaven Only Knows", which manages to capture the classic Shangri-Las sound in a way that is complimentary to Mary's voice as it is now.
I was not granted permission to share an mp3 from the album, but you can hear samples at Mary Weiss' MySpace page.
I Rock Cleveland also posted an excellent review of Mary's album.
Dangerous Game is available for purchase now at Norton Records, and pre-order at Amazon
.