Pamela Means'
Jazz Project Vol. 1
is a pleasantly surprising collection of revamped jazz standards. Surprising to me because I came to know of her through her work with poet
Alix Olson
, who has a fierce folk-punk tone to her spoken word music. The Pamela Means Jazz Project goes in an entirely different direction with smokey vocals and deep jazz rhythms. The band consists of Means on vocal and guitar, Ananda Nayak on bass, and Sturgis Cunningham on drums. The trio recorded the album live in studio with no overdubs or edits, and released it on Means' independent label
Wirl Records
.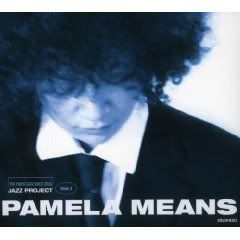 Billie Holiday and Nina Simone are two of my favourite singers of all time, and I think most people would agree that those ladies were in a class of their own. So it takes a lot of courage and an even larger amount of talent for a modern singer to successfully cover songs that Billie and Nina made famous. Pamela Means tackles both Billie's upbeat "All of Me" and Nina's deeper "Four Women" on this album, and amazingly she does both well. And while I never much cared for Sinatra's "Fly Me to the Moon" before, Pamela's sultry velvet voice transforms the classic into a torch song.
I was also surprised and impressed by her cover "My Funny Valentine". Though the song holds special significance to me for personal reasons, I rarely like contemporary covers of it. Give me Chet Baker or Etta James, but the song usually sounds unimaginative and monotonous when sung by anyone else. Means, however, manages to refresh this old ode to unconditional love by giving it a deep new bass heart.
"My Love" is the only original song by Pamela Means on the disc. The smooth blend of Pamela's jazzy vocals and funky bass rhythm enable the track to stand out as the modern work that it is while at the same time fitting right in with the classic covers that make up the rest of the album. A low key cover of Duke Ellington's "I Got It Bad" gently closes the album.
Pamela Means – My Love (mp3 removed)
Pamela Means Official Site
Buy @ Amazon