Patrick Wolf's third album,
The Magic Position
, was released on May 1st, and I have to say that I love it. The new album is almost cheery compared Wolf's previous recordings.
The Magic Position
layers the best elements of his romantic and tragic troubadour style with electronic beats, synthesizers, and intricate string arrangements. At times the new material reminds me of New Order or even Duran Duran, but there's still a melancholia to Wolf's sound that adds enough depth to his songs to keep them from sounding like a total exercise in New Wave nostalgia.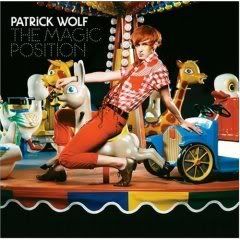 The Magic Position slides open with the dramatic drum beat and shimmering strings of "Overture", followed by the buoyant title track. "The Magic Position" mingles a string quartet with glockenspiel, handclaps, foot stomps, ukulele, dulcimer, and trombone among other implements of noise into what is by far Wolf's most catchy pop melody to date.
"Accident & Emergency" has a very faint hint of industrial in its vibrating synth-pop. The slow-burning piano of "The Bluebell" serves as an introduction to "Bluebells", which resurrects the synth-pop with a dash of fireworks. The midway tracks like Marianne Faithfull guest spot "Magpie" and "Augustine" return to the somber tone most often associated with Patrick, before "Get Lost" shakes the circus tents again with electro-beats, handclaps, space rockets, and arcade machines. And the album quietly closes with the twinkling instrumental "Finale".
I remember when I first fell in obsessive love with Patrick Wolf's music – particularly "Ghost Song" – back in 2004-05 and I tried my best to promote him here on this blog and on my old Livejournal music community Audiogasms (predecessor to Audiography)… until stories of Patrick's distaste for the internet, blogs, and file sharing began circulating along with other strange tales about him.
In a post here in May 2005, I wrote: "I hope that the fanciful stories of his life and inspirations that are now floating about don't drown out his talent. There's a fine line between the eccentricity of Björk and the dementia of Tori." Judging from the brouhaha over Patrick's recent outbursts on stage, my prediction that his persona would overshadow his music seems to have come true.
But Wolf or at least his management has apparently changed their stance on "New Media" with this album, so hopefully his antics won't do too much damage. Instead, I hope that this new found appreciation of blogs will help catapult his career as it has his old tour mates Arcade Fire. Wolf is currently supporting Amy Winehouse on tour.
Patrick Wolf – The Magic Position (mp3)
Patrick Wolf's Official Site
Patrick on MySpace
Buy the CD