Once
is an independent film that stars and features music by Glen Hansard of The Frames as well as co-star Marketa Irglova. Hansard produced the soundtrack, which is every bit as well-arranged and moving as his band's music. As I said in my review of The Frames'
The Cost
, Hansard has become my favourite contemporary male singer-songwriter. His lyrics are deeply poetic, his music is heart-wrenchingly lovely, and his beautifully raw voice conveys emotion as if the man were literally ripping his own chest open as he sings. Marketa Irglova's vocal and piano contributions to the soundtrack accomplish the outstanding feat of making Hansard's music even more poignant and pretty than usual. Many of the soundtrack's songs were originally featured on Hansard and Irglova's collaboratory album
The Swell Season
, which seems to have served as inspiration for the film's music.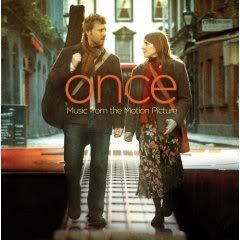 As impossible as it seems, Hansard's vocals seem even more plaintive on this soundtrack than on his own band's albums. Marketa Irglova's sweet harmony vocals and piano lend the songs a bittersweet romantic feeling – particularly on "Lies", which she co-wrote with Hansard. The tune holds more sexual tension and heartbreak between Hansard's and Irglova's characters than any movie dialogue ever could.
Marketa Irglova's angelic voice takes the spotlight on the haunting "If You Want Me" and "The Hill", which are her own original songs. Several other tracks – such as the acoustic "All The Way Down" – shine a flattering light on the solitary melancholia of Hansard's character. I suspect Hansard's humorous "Broken Hearted Hoover Fixer Sucker Guy" will make more sense once I've seen the movie (alas, it seems I'll have to wait until the DVD is released), but I still enjoy it.
There are a number of instrumental cameos by other members of The Frames. The entire band supplies Barbershop harmonies to "Fallen From The Sky", but the band's sound is most apparent on "Trying To Pull Myself Away".
"Falling Slowly" – which is another product of the co-stars' shared songpen – and "When Your Mind's Made Up" were also featured on The Cost, but here are performed as duets between Hansard and Irglova. Though The Frames can do no wrong in my book, I have to say I prefer the stripped down soundtrack versions. The strings in this arrangement of "Falling Slowly" give the song a stirring, cinematic quality.
I was not granted permission to share an mp3, but the following are audio streams from the soundtrack…
Glen Hansard & Marketa Iglova – Falling Slowly (streaming audio)
Marketa Iglova – If You Want Me (streaming audio)
Glen Hansard & Marketa Iglova – When Your Mind's Made Up (streaming audio)
Once Official Site
Once on MySpace
Once Movie Trailer
The Frames Official Site
Buy the CD