Damien Dempsey's 2006 release
Shots
isn't as stylistically impressive as his latest genre-bending effort
To Hell Or Barbados
, but the fervent strength, incredible range, and robustly multi-faceted tone of his voice give even his simplest tunes a magnetic quality. And some of his best acoustic work and vocal performances were on the decidedly more Irish sounding
Shots
.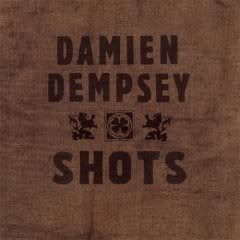 Dempsey's voice soars on the softly atmospheric "Sing All Our Cares Away", scrapes the depths of his vocal chasm in "Not On Your Own Tonight", and floats back up into a sweeter pitch on the ballad "Hold Me". The beats of the growling "Patience" foreshadow the reggae experimentation of To Hell Or Barbados.
The epic vocals, haunting Celtic instrumentation, and historically dramatic lyrics of "St. Patrick's Day", "Colony", and "Choctaw Nation" lift the album up into a cinematically opulent realm. Listening to those three songs, it's no wonder that Damo is becoming such a star in Ireland. If the rest of the world has any taste at all, they'll soon follow suit.
The US release of Shots also includes three tracks recorded live at Dublin's Olympia Theatre in 2005, including Damo's catchy Caribbean sing-a-long ode to optimism "Negative Vibes". Some of the other tracks are a little lackluster in comparison to the more dramatic cuts on both albums, but even Dempsey's weaker tracks could wipe the floor with most other artists.
Damien Dempsey – Cursed With A Brain (mp3)
Damien Dempsey – St. Patrick's Day (mp3)
You can also watch Damien's half-hour acoustic performance on RTÉ.