John Doe was a founding member of the punk band X. On his solo effort
A Year In The Wilderness
, his sound occasionally strays into bland folk and country territory. But there are a couple of rockers on there, as well as a brief nod to the blues, and always that underlying darkness that is Doe's trademark.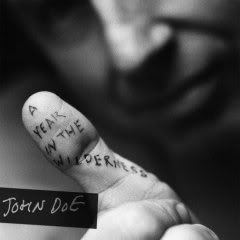 The disc opens with the twenty second piano and organ instrumental "The Wilderness" before launching into "Hotel Ghost", which features the revving guitar of former X member Dave Alvin. It and the crunching "There's A Hole" – with guitar by Dan Auerbach of The Black Keys – are the stand out rock tracks. Auerbach also plays steel on the bluesy "Big Moon".
"The Golden State", "A Little More Time", and "Lean Out Yr Window" feature the twangy vocals of Kathleen Edwards. Jill Sobule pops up on the ballad "Darling Underdog", though you can barely hear her for most of the song. And Aimee Mann guests on "Unforgiven", which again simmers the guitars.
Doe's best vocals on the album are probably on the Cash-lite track "The Meanest Man In The World" and the finale "Grain Of Salt".