Cyndi Lauper's
The Body Acoustic
features new acoustic arrangements of 12 of her songs, with several being transformed into duets with
Ani DiFranco
, Sarah McLachlan, Shaggy, Jeff Beck, and Vivian Green among others.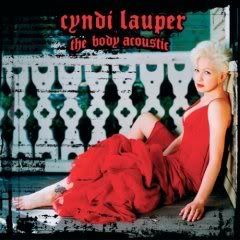 The album opens with a new clap beat and string arrangement on "Money Changes Everything", with Lauper's raspy voice being joined by Taking Back Sunday's Adam Lazzara. Shaggy's reggae vocal style seems an odd match for the quasi bluegrass arrangement on "All Through The Night", but it strangely works.
Sarah McLachlan lends her voice to an only slightly altered "Time After Time" and "Water's Edge". Jeff Beck pops up on "Above The Clouds", while Vivian Green slides in on "I'll Be Your River". Green sticks around for a trio with Cyndi and Ani Difranco on "Sisters Of Avalon".
Lauper goes it alone on four of the album's tracks, including the moody dulcimer and piano take of "She Bop" and "True Colours". And the album closes with a brassy ska duet of "Girls Just Wanna Have Fun" with Puffy Ami Yumi.