The debut album from Kate Tucker & The Sons of Sweden is an enchanting little album of haunting folk-pop. Some songs call to mind the dreamy sounds of Trespassers William or Mazzy Star, while others are more akin to the eerie acoustics of Neko Case or Cat Power. The disc features a guest appearance from Damien Jurado.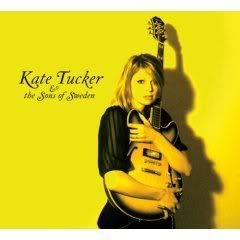 The opening track "The Hours" and "Saturday Night" have swirling pop dreamscapes intertwined with piano and Kate's melodic voice. The ballads "In Your Dreams", "The Way You Went", the string laced "Maybe A Pirate Stole Her Soul", and the melancholic "The First Day Of The Year" have sparse, shadowy melodies.
The stand out tracks are the phantasmal Nekoesque twang of "Faster Then Cars Drive" and the dramatic "Everything Went Down". The lyrics of the latter remind me of Jay Mcinerney's The Good Life
which sets a love affair in the aftermath of September 11th. Though I have no idea if the novel or the event served as inspiration for the song.
The darkly atmospheric "On The Radio" is another highlight, and Damien Jurado lends his voice to the finale "In The End".
Kate Tucker & The Sons of Sweden – Faster Than Cars (mp3s removed)
Kate Tucker & The Sons of Sweden – Everything Went Down (mp3)
Kate Tucker & The Sons of Sweden – Saturday Night (mp3)