Yesterday, I received the most awesome DVD set ever – the entire series of
My So-Called Life
. This may sound cheesy but it's true – this new MSCL DVD set by Shout!Factory is literally so beautiful it hurts to look at it. It was definitely worth the 13-year wait.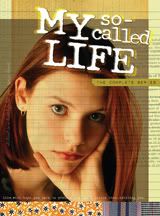 The packaging is so lovely and perfect – put together like a gorgeous scrapbook with images of the cast, episode stills, quotes from the show, and letters from writer Winnie Holzman (who goes into more detail about her plans for season 2), Joss Whedon, Janaene Garofalo, and others. The episode summaries include what songs were played in each show, guest stars, and the occasional extra note (Catalano was not the original last name for Jordan).
The DVD discs are in bright colours with smalls sketches that fit particular episodes – a girl with her hair hanging over a sink for "Pilot", an angel for "So-Called Angels" (an episode featuring Juliana Hatfield), etc. So far I've only watched a few of the features on the bonus disc – "Conversation With Claire Danes and Winnie Holzman", "My So-Called Life Story", "The Music" (an interview with composer Snuffy Walden), and the character bio of Angela (which features brief interviews with Claire, Wilson, and Devon Odessa). There are several other featurettes and interviews on the bonus disc, as well as commentaries on individual episodes by the show's creators and cast – including Devon Gummersall on "Life of Brian", Claire Danes on "Self Esteem", and Wilson Cruz on "So-Called Angels".
Though I haven't watched any of the episodes yet, just seeing clips from the show in the bonus features was very powerful. And not just because it's the first time I've seen them without the snowy distortion on my VHS tapes from the original 1994 airing on ABC. There's something about seeing Claire Danes (who is my age) talking about that time in her life, then seeing those clips of her as Angela and remembering being that age myself that was surprisingly emotional.
There are more details and reviews on the set at MSCL.com.