We Made This Ourselves
is the debut album from English singer-songwriter Essie Jain. Jain's music is very simple, played in an old fashioned folk style though the sound is unmistakably modern. A little similar to
Kath Bloom
, but Essie's voice often has a deeper, smoother timbre.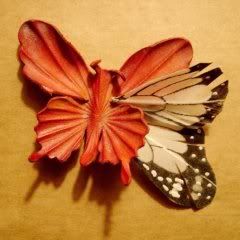 Tracks like "Glory" and "Indefinable" have sparse, measured acoustics that serve as soft settings for Essie's warm voice. Her voice gracefully rises into a light soprano on "Haze" and "Talking".
The melody on "Sailor" isn't all that different from the preceding tracks, yet a mere change in the string arrangement adds a darker edge to the song. "Understand" pursues the moodier sound, with Essie's voice sounding almost like Feist.
"Disgrace" is my favourite on the album. It has a jauntier rhythm that reminds me of Julie Delpy's "Waltz For A Night" in the film Before Sunset
.
In all of the songs, there is a feeling that extreme care and attention was given to each note played and every syllable sung. It's not the most interesting album I've heard this year, but it could very well be the most sincere.
Essie Jain – Disgrace (mp3)
Essie Jain – Glory (mp3)
Essie Jain – Haze (mp3)
Essie Jain – Talking (mp3)
Essie Jain Official Site
Essie on MySpace
Buy the CD