R. Carlos Nakai's 2004 release
In Beauty, We Return
is a "Best Of" collection of the Native American flutist's recordings. The collection is divided into sets of Nakai's solo recordings, "quiet" collaborations, "rhythmic" collaborations, and those accompanied by an orchestra. I previously reviewed his collaboration with Hawaiian slack guitar player Keola Beamer,
Our Beloved Land
.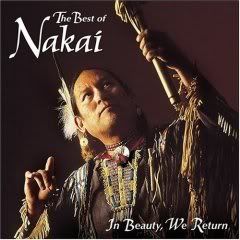 The solo set is comprised of the haunting flute pieces "Shaman's Call", "Whippoorwill", "Song For The Morning Star", and "Red Streaking Into Water".
The "quiet" collaborations with guitarist William Eaton, flutist Paul Horn, and Japanese musicians The Wind Travelin' Band follow the same serene path of Nakai's solo work. "Eye Of The Wind" with Horn and "KAMUI" with The Wind Travelin' Band are especially lovely.
"Feather, Stone & Light" – the first of the "rhythmic" collaborations – takes a drastic turn into an interesting jazzier style, but I prefer the more traditional arrangements before and after the track.
The final selection is exquisitely scenic, mixing Nakai's entrancing flute playing with idyllic orchestration by the Canyon Symphony. The disc closes with a gentle instrumental rendition of "Amazing Grace".