Orphan Music
is Sarah Slean's first official "live" album, though 6 of the 15 tracks are actually b-sides. The set has a surprisingly darker tone to it than the dreamier mood of her debut album. Though the melodious
Blue Parade
was quite haunting in its own way, the songs on
Orphan Music
seem even more apparitional. The lovely tone and powerful range of Sarah's voice are heard better in the live performances than on studio recordings. Several tracks were recorded live with The Blue Spruce String Quartet at Toronto's Harbourfront Theatre in December, 2005. Other are taken from a live performance at Vancouver's East Cultural Center the same year.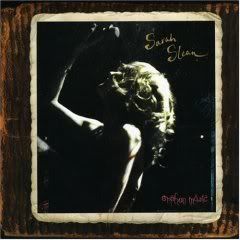 The stand out tracks "Lucky Me", "Pilgrim", and "The Score" have a sinister edge to their jaunty piano melodies, and Sarah's throaty voice takes on a spooky lilt in each song. She even emits a maniacal laugh at the beginning "The Score", on which she unleashes her most soaring wails.
"Elliot", the moving "Last Year's War", and "Little London Night" are gentler tunes, but still produce that uncanny sensation. Ballads like "Somebody's Arms", "Mary", "Wilderness", and "California" return to Slean's unadulterated softer side.
I was not granted permission to share an mp3, but you can hear samples at the links below.
Sarah Slean Official Site
Sarah on MySpace
Buy the CD