Yep Roc Records will re-release
Flock
by Irish band Bell X1 on February 19th. The album was originally released in Ireland in 2005. Bell X1 is composed of former members of Juniper, probably best known as Damien Rice's first band. Members of Bell X1 recently contributed to the Irish charity album
The Cake Sale
. I suspect that
Flock
's American release will garner comparisons to certain other indie-rock bands (particularly The Shins or Franz Ferdinand) for its mix of airy vocals and polished electro-rock, but Bell X1 was first and better.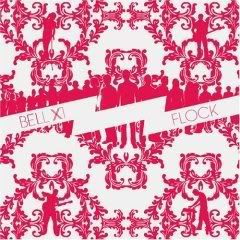 It's been a little over two years since I first mentioned "Eve, The Apple of My Eye" here. The beautiful ballad remains the stand out track of the album, with Paul Noonan's delicate voice rising with the lovely melody. It's the song that made me love Bell X1, one that reminds me of the softer side of The Frames.
"Rocky Took A Lover" blends a soft indie-rock rhythm with shimmering strings, while the catchy "Flame" has a darker pop-rock sound with an a capella and handclap finale.
"My First Born For A Song" looks at 80s synth-rock through a dark glass, and I believe that's the delightful clunk of a cowbell mingling in the riffs and handclaps on "Bigger Than Me" – which sounds like a tribute to Talking Heads or early R.E.M.
The first part of "He Said, She Said" has the slightest hint of eerie Lynchian twang, then the second half explodes into a yesteryear Radiohead rock wail. Other tracks of note are "Reacharound" and "Just Like Mr. Benn".
Buy the CD