Dengue Fever's third full-length album
Venus On Earth
was released last week. To say the Cambodian band has a unique sound would be an understatement. The music on the album is a wonderfully bizarre mix of pop, psychedelica, Khmer rock, jazz, Bollywood, Middle Eastern, and other cultural styles. The band is led by Cambodian singer Chhom Nimol. Their music has been featured in the films
City Of Ghosts
and
Broken Flowers
and also in the Showtime series
Weeds
.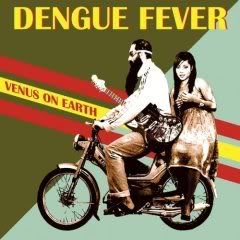 The opener "Seeing Hands" and the finale "Mr. Orange" blend quirky Asian pop with light dance beats and churning psychedelic rock guitars. Chhom's pretty voice is especially hypnotic on the brass accented "Clipped Wings" and the exotic Iraqi pop inspired "Integration".
Though the band's music is heavily influenced by the Cambodian pop-rock scene of the 1960s and 1970s, songs like the transcontinental duet "Tiger Phone Card" and the beautiful ballad "Tooth And Nail" could just as easily have been lifted from an American band of that era.
"Sober Driver" is a moodier duet with robust horns. The band's Cambodian roots are most apparent on "Monsoon Of Perfume". And "Oceans Of Venus" is a surf rock instrumental.
Dengue Fever's Cambodian tour are the subject of a John Pirozzi documentary entitled Sleepwalking Through The Mekong.
Dengue Fever – Sober Driver (mp3)
Buy the CD