Exotic Bird
is an apt title for singer-songwriter Jessie Kilguss. Her subtly saucy voice softly spiels lyrics full of poetically brooding imagery amidst outlandishly diverse arrangements. Kilguss is a former actress who appeared in the film adaption of
The Crucible
with Daniel Day Lewis and shared the stage with Mary Margaret O'Hara and Marianne Faithfull.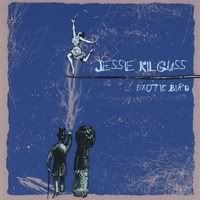 "Desert Song" layers acoustics and light trip-hop beats underneath Jessie's seductive croon. Alan Cox co-wrote and sings on the jazzy salsa "All I Am Is Breath".
The haunting "Lord Lucan" burgeons from ghostly hums to sparse electronic beats as Jessie's lone voice transposes her personal heartbreak onto the tale of a murderous English aristocrat. "The Dream" and the erotic "Delicate Queen" are strange brews of glowering, atmospheric jazz and junkyard clang.
The album includes three covers. With the exception of a few flourishes, the Kilguss take on Elvis' "Don't" stays true to the moody, downtempo original. There's a plunking, plonking cover of the Waits tune "I'll Shoot The Moon". And a partially spoken word rendition of Jacques Brel's "The Desperate Ones" serves as the finale.
Jessie Kilguss – Lord Lucan (mp3 expired)
Jessie Kilguss – Desert Song (mp3 expired)
Jessie Kilguss Official Site
Jessie on MySpace