Forget tepid Paramore, my current guilty pleasure is Rotten Cheri. Their debut album
02
is shiny, sexy femme rock. Led by vocalist Stephanie St. Hilaire, the Brooklyn trio's mixes the alterna-rock and ska sound of the '90s with the chick pop-rock of the aughts.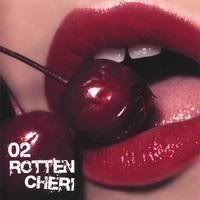 Songs like "Jealous Girl" and "Things I Hate" sound like Gwen Stefani singing for Red Delicious. "Before It's Over" at first slows down into a slinky ballad before flaring into another rock riff slathered with catchy pop.
"Sickness" sounds like a hybrid of No Doubt and Foo Fighters, while "Under Control" fully embraces the girl-ska sound of Gwen's old band. The softer "Get Out Go Away" has a surprising splash of strings, and the seductive electro-rock "Centipede" sounds like Angelfish (Shirley Manson's pre-Garbage act).
The album definitely has some weak spots, but there are also great moments that almost recall Throwing Muses. And in general, it's a pretty fun listen.
Rotten Cheri Official Site
Rotten Cheri MySpace