The Heavy Circles is singer-songwriter Edie Brickell's new project, a joint effort with guitarist Harper Simon (son of Paul Simon). The band's all-star debut self-titled album will be released on February 12th. Their sound is a pop, rock, blues, indie, avant garde, reggae, and alt-country blend. Though there are certain retro elements in the songs, the sound is quite different and much more modern than Edie's old neo-hippie outfit New Bohemians. The album features guests Martha Wainwright, Inara George, Sean Lennon, Cibo Matto's Miho Hitori, Jennifer Charles of Elysian Fields and Lovage, That Dog's Anna Waronker, and
Joan As Police Woman
's Joan Wasser among others.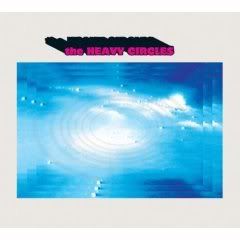 I received the The Heavy Circles debut in the mail, listened to and loved it, and didn't realize who was behind the catchy tunes until I read the press release while writing this review. Edie Brickell never fails to make music I enjoy, even when experimenting with new genres like this.
The opener "Henri" has a hypnotic, psychedelic rock arrangement beneath Edie's ethereal whisper. The track features former Elysian Fields and Lovage vocalist Jennifer Charles, and would not have been out of place on last year's Plant/Krauss collaboration Raising Sand.
"Better" and "Ready to Play" follow in a perkier pop style accented with crunchy guitar riffs. "Confused" slows down into a semi-ballad with soft percussion and a pretty piano ascension. "Need A Friend" has a surprising twist of reggae and brass. And despite the natural mildness of Edie's voice, "Dynamite Child" is pure rock.
Martha Wainwright sings on languid blues tune "Easier", while Inara George and former That Dog vocalist Anna Waronker lends her voice to the dreamy "Maximo". Sean Lennon plays bass on both tracks. Joan Wasser contributes to the string arrangements on several tracks and performs a violin solo in "Wait & Wait". And Cibo Matto's Miho Hitori sings on the finale "Oh Darling".
The Heavy Circles – Henri (mp3)
The Heavy Circles Official Site
Buy the CD