White Moth
was Australian didgeridoo virtuoso Xavier Rudd's second release last year. Unlike the bare bones sound of the also excellent
Food In The Belly
(originally released in 2004, re-released in 2007), Rudd added a little rock kick to his blend of folk, pop, reggae, and Aboriginal styles on
White Moth
. The disc features guest members of the Aboriginal musical group Yothu Yindi, percussionist Dave Tolley, Panos Grames, and First Nations Cree elder Kennitch. Rudd deems the album his "proudest work" and it's easy to understand why. His sound has matured and deepened to a profound degree since I first saw him perform at
Mountain Stage
.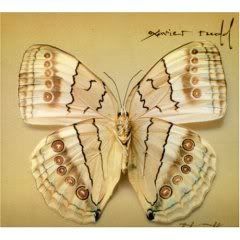 One of the more impressive things about White Moth is that Xavier was often able to create the impression of a backing band by playing basslines with his thumb while finger picking the melody. This was in addition to his usual multi-instrumentalist arsenal of guitars, didgeridoos, slide guitars, stomp boxes, djembes, harmonica, and other forms of percussion.
The catchy and upbeat opener "Better People" pays tribute to Australia's indigenous people, environmental activists, and Rudd's family. "Twist" and "Come Let Go" delve into Marley reggae territory.
The stand out tracks "Stargaze" and "Footprint" are the prime examples of Xavier's singular ability to mimic a reverberating rock orchestra. "Footprint", which addresses the harm wrought by global warming, sounds more like a Rocco DeLuca & The Burden song than the austere style of Xavier's past catalogue.
The twinkling "White Moth" shows off the richness of Xavier's voice, and refers to an incident in Sri Lanka when a white moth rested on one of his children for six hours. "Choices" is a softer tune concerning a relative's terminal illness. Simple acoustics rise with rhythmic percussion and the voices of an Aboriginal backing choir on "Land Rights", which was inspired by the Aboriginal territory of Arnhem Land in Australia.
The yidaki (didgeridoo) takes center stage on the haunting quasi-instrumental "Message Stick" before the song erupts with drums and chanting. The atmospheric "Set It Up" is an unusual mix of pop-folk and blues, and the finale "Come Back" is a soulful, wistful ballad.
I was not granted permission to share an mp3, but you can hear clips at the links below.
Buy the CD or Mp3s