Well, that's it. I finally had to revise my
Top Albums of 2007 list
, converting it to a top 15 instead of a top 10. I could not in good conscience make Eilen Jewell's
Letters From Sinners & Strangers
a mere honorable mention. I recall seeing Eilen recommended on another blog last year (prolly
The Late Greats
or
Songs:Illinois
), but I seem to have confused her with
Essie Jain
. My tremendous mistake. Eilen Jewell's enchanting nostalgia sounds more like Samoa Wilson's work with the Jim Kweskin Band or Eleni Mandell's
Country For True Lovers
. In truth, though, Eilen's flawless inflection and vintage sashay is utterly incomparable.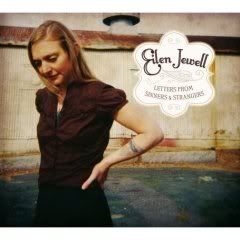 A sassy splash of harmonica pops the top on the jaunty opener "Rich Man's World" as the tune twirls across the fiddle laced square dance floor with Eilen's warm voice wrapped up in its arms. "Dusty Boxcar Wall" then jumps the tracks with eerie Lynchian twang.
"High Shelf Booze" swaggers into an old speakeasy to drop some jazzy clarinet and slinky guitar into the tip jar, and the title track from Eilen's five song Heartache Boulevard EP takes a stroll down Tin Pan Alley. Meanwhile, it's the honey in Eilen's throat that carries the cover of Charlie Rich's "Thanks A Lot".
"Too Hot To Sleep" stirs a dash of surf rock into a pressure cooker settled west of the Mississippi River, and "Where They Never Say Your Name" sinks its darkly seductive self deep into that Western autoclave. "How Long" plants its gospel roots in the words of Dr. King, while Eilen plays the languorous temptress in the traditional "If You Catch Me Stealing". The album also includes a cover of Bob Dylan's "Walking Down The Line".
You can listen to Eilen perform songs from the album on NPR's World Café.
Eilen Jewell Official Site
Eilen on MySpace
Buy the CD