Eric Bibb's
Get On Board
will be released on March 11th. The album is a brilliant collection of gospel influenced blues, folk, and soul with guest vocals by
Ruthie Foster
and Bonnie Rait. Bibb is son of NY folk singer Leon Bibb and nephew of pianist-composer John Lewis of the Modern Jazz Quartet. His family counted
Pete Seeger
, Bob Dylan, and
Odetta
among their friends. Bibb has been playing steel guitar since the age of seven, lived in Sweden for a time before signing to a British label, opened for Ray Charles on tour, and recorded with Odetta,
Mavis Staples
,
Guy Davis
, and Taj Mahal among others.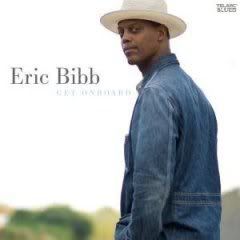 "Spirit I Am" rips the album open with a gospel blues stomp that could've fallen off of Mavis' I'll Never Turn Back. Eric's voice reaches into the rich depth of Richie Havens with rhythmic support from a backing choir, hand claps, bluesy guitar, heavy percussion, and a flare of brass.
I hesitate to keep comparing Bibb to others, but I think it encourages people to check out artists they haven't heard before. His voice sounds eerily like Peter Mulvey on "The Promised Land", which puts a catchy modern spin on an otherwise traditional blues sound. The track abounds with harmonica, as does the more festive "New Beale Street Blues".
Bonnie Rait contributes slide guitar to the spiritually conscious "If Our Hearts Ain't In It". "Pockets" is a sweet, simple acoustic tune all about love. "Deep In My Soul" drops a sprinkle of lap and pedal steel into the bluesy gospel kettle.
After the opening track, my favorite song on the album is the duet with Ruthie Foster. "Conversations" is a pure blues duologue that begins as a state of the relationship lament and slides into sultry seduction. The foot tappin' finale growl "Stayed On Freedom" is yet another song that hints at Bibb's association with the great Mavis Staples.
Eric Bibb – Spirit I Am (mp3 expired)
Eric Bibb Official Site
Eric on MySpace
Buy the CD