After witnessing Jeremy Fisher's spirited set at last week's
Mountain Stage concert
, I finally got my hands on a copy of
Goodbye Blue Monday
. As if I wasn't already charmed by Jeremy's live performance, he had to name his album after the alternative title of
Breakfast Of Champions
by my favorite author
Kurt Vonnegut
. Fortunately, the contents of the album (produced by Hawksley Workman) live up to the exalted implications of such a title.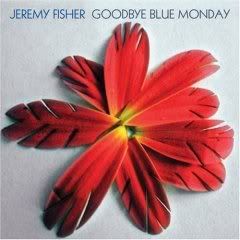 The opening track "Scar That Never Heals" is not only the catchiest number on the album, it's the most addictively peppy song I've heard in a long time. The intro of the song is reminiscent of Violent Femmes' "Blister In The Sun", but soon bursts into a harmonica and handclap accented retro pop ditty that earns Fisher well deserved comparisons to Paul Simon.
"Cigarette" walks the fine line between sincere Americana balladry and pop catchiness by interlacing quiet verses with lively refrains. The buoyantly political "American Girls" and cheerily melodic "Sula" revive the harmonica handclap super rhythm of the opener.
"High School" has another bouncy arrangement. When Fisher introduced the dubiously controversial (apparently some cave dwellers are still shocked by references to teenage sex and marijuana) song at Mountain Stage, he said it was inspired by a case of mistaken identity during an encounter with an old classmate.
"Left Behind" is a pretty ballad, while songs like "Jolene", the title track, and "Lay Down (Ballad Of Rigoberto Alpizar)" delve into a more somber acoustic sound. However, it's the above-mentioned hyperactive tracks that make Goodbye Blue Monday the best overlooked album of 2007.
Jeremy Fisher – Scar That Never Heals (mp3) *
Jeremy Fisher Official Site
Jeremy on MySpace
Buy the CD
*mp3 posted for two weeks with permission from Sony/ATV and Wind Up Records