Emotionalism
was the fifth studio release by North Carolina trio The Avett Brothers. The album is a masterful display of beautifully crafted songs. Each tune is composed of refreshingly multifarious arrangements, gorgeous instrumentation, prolifically insightful lyrics, and awe-inspiring vocal harmonies.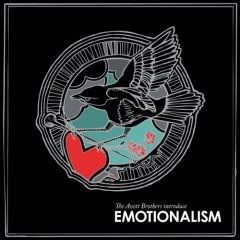 The opener "Die Die Die" and the superbly catchy "Will You Return?" would oddly sound a little like Weezer if not for the distinctively Southern ethos in the instrumentation. They are two of many tracks that showcase the near perfect modulation, impressive range, and exquisite harmony of The Avett Brothers.
"Shame" and the charmingly melodic "Paranoia In Bb Major" shine a brighter light on the banjo. The softer bluegrass styled tunes could be remnants from an Old Crow Medicine Show album if not for the polished retro pop overtones.
"The Weight Of Lies" hints at the somber tone of Bright Eyes, yet uplifts and beautifies it with the soulful Americana of Ryan Adams. "Salina" at first delves into a similar blend – replacing Oberst's melancholia with the antiquated heart of The Decemberists – then the song shifts into stunning piano and cello arrangement. "Pretty Girl From Chile" is another multistage progression, with the second half bursting into a Latin guitar and wailing vocal spectacular followed by an explosion of grunge riffs.
My favorite song on Emotionalism is "The Ballad Of Love And Hate", an old-fashioned folk ballad in a very modern setting. The tune is sparse, yet so hypnotically lovely I find myself setting it to repeat every time I listen to the album. The lyrics personify the two emotions, poetically expressing their polar reactions to the world around them and following their diverging paths until the final poignant intersection.
Emotionalism will be yet another honorable mention added to my Best of 2007. Had I heard the album last year when it was first released, it would certainly have knocked someone else off of the list. I had requested a review copy of the CD last June, but it wasn't until the band's "If It's The Beaches" was featured in a recent episode of Friday Night Lights that it finally arrived. It was definitely worth the wait.
The Avett Brothers – Will You Return (mp3)
The Avett Brothers – If It's The Beaches (mp3)
The Avett Brothers Official Site
Buy the CD or Mp3s