Ani Difranco's third concert DVD,
Live In Babeville
, will be released on April 1st. The performances were recorded live on September 11th and 12th, 2007 for the grand opening of Ani's own Babeville in Buffalo, New York – to coincide with the release of last year's career retrospective
Canon
. The venue was originally a 19th century Methodist church that Ani and her manager saved from demolition and transformed into an impressive concert hall.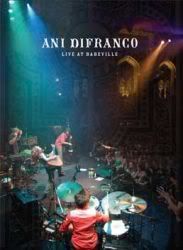 Live In Babeville begins with a loose surveillance of the concert venue, spanning fans waiting in line outside to Righteous Babe employees (and I believe Hamell on Trial) milling around the hallways, and a brief pan of the main concert hall before Ani takes the stage. The audience greets her with loud applause and cheers and Ani briefly acknowledges the cameras before launching into "Napoleon".
If you've only heard Ani in audio, I cannot recommend experiencing her in person enough. I saw her at Mountain Stage a few years back and – as clearly shown on this DVD – she is charmingly down to earth in audience banter and exhilarating in performance. Before "Present/Infant", Ani gives praise to opening act Hamell on Trial, whose apparently amazing set is sadly absent from the film. Hamell played the same Mt. Stage concert that Ani did and he was indeed a stage scorcher.
The prettily funky "Swim" leads into "Not A Pretty Girl", which is here presented in a much calmer manner than the olden days yet is still a striking song. "Fuel" is played a little too jam bandish for my taste, but Ani's vocal poetry is as captivating as ever. Her heart-ripping yet somewhat reserved take on "Independence Day" reminds me that Ani is not only the true heir to the socio-political folk throne, but also a genius in capturing the most raw and personal of human emotions in song.
"Paradigm" is a tad bland in the shadow of the preceding track, but Ani follows it up with a humorous anecdote about natural childbirth. A soulful rendition of "Marrow" is paired with "Sunday Morning", then Ani goes solo for "Unrequited" and my personal favorite "Shy" (one of the most awesome songs ever written, in my not so humble opinion). The band returns for "You Had Time", "Alla This", and "In The Way". Ani chats about plans for the venue before bursting into the crowd (and me) pleasers "Gravel" and "Little Plastic Castle". The encores "Overlap" and the lovely "Hypnotized" finish off the concert.
The bonus features include a short interview with Ani – in which she describes the overwhelming expense and process of renovating the church and converting into a music venue – and subdued performances with the band of "78% H2O", "Shy", and "32 Flavors".
Ani Difranco – Live at Babeville Trailer (video)
Ani Difranco Official Site
Babeville Official Site
Pre-order the DVD