She & Him are actress-singer Zooey Deschanel and singer-songwriter M. Ward. Their debut
Volume One
will be released by Merge Records on March 18th. I've been eagerly awaiting a recording from Zooey ever since I first heard her unusual and lovely croon of "Baby It's Cold Outside" in the movie
Elf
. I was worried that Ward might transform her into a boring "indie" stereotype, but this album is a splendid retro pop confection. The duo first met while covering Richard and Linda Thompson's "When I Get To The Border" for the soundtrack of Ward's film
The Go Getter
. During the recording, Zooey revealed to Ward that she had written and recorded songs on her home computer and eventually shared the demos with him. The two later began their collaboration at his Portland studio.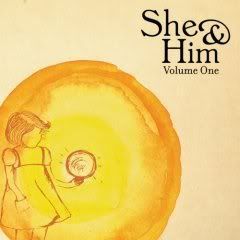 Zooey's achingly beautiful voice bursts in with "Sentimental Heart", which builds from a simple retro influenced melody into an orchestral crescendo of strings, percussion, and female vocals. The catchier numbers "Why Do You Let Me Stay Here?", "This Is Not a Test", "I Was Made For You", and "Sweet Darlin'" slide fully into girl pop history.
It's the slower songs that truly show off the rich tone and near perfect pitch of Zooey's voice, such as the mellow Dusty Springfield twang of "Change is Hard" and the soft Margo Guyran echo of "I Thought I Saw Your Face Today". The choicest cuts are the exquisitely melodic "Take it Back" and "Got Me", which sounds like a Patsy Cline tune.
Ward joins her for a soulful acoustic duet of "You Really Got a Hold On Me" and the languid hula "I Should Have Known Better".
I will be absolutely shocked if this album isn't on my best of 2008 list.
She & Him – Why Do You Let Me Stay Here (mp3 removed)
Buy @ Amazon