Before Shout!Factory gave us
My So-Called Life
and
Punky Brewster
, they released the short-lived NBC series
Freaks & Geeks
. Set in 1980 Michigan, the show centered on aspiring freak Lindsey Weir (Linda Cardellini) and her little geek brother Sam (John Francis Daley) as they traversed the nightmarish landscape of high school, the precarious loyalty of friends in their respective cliques, the anguish of unrequited love, the transitory nature of relationships, the mortifying affection of their parents, and the sheer humiliation of the teen years.
Freaks & Geeks
was every bit as realistic and magnificent as
My So-Called Life
, but
F&G
focused on the awkward humor of adolescence over
MSCL
's more poignant take.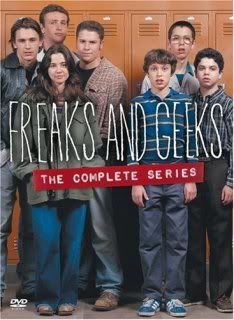 Though may I prefer My So-Called Life in many other ways, I have to say that Freaks & Geeks has the absolute best opening sequence in television history. I don't want to spoil it for those that haven't watched it yet, but the pilot episode begins as any other teen drama might before shifting suddenly into it's gloriously off-centered self. The show also had the coolest theme song in Joan Jett's "Bad Reputation".
The series served as a launching pad for the acting careers of Linda Cardellini of ER, James Franco of Spiderman
, Jason Segel of How I Met Your Mother and Forgetting Sarah Marshall, and most notably Seth Rogen of Knocked Up
and Superbad
. Back then, I though of Seth Rogen simply as "Big Sarcastic Guy" (I could never remember his character Ken's name) and I loved him just as he was. I like to think my recognition of and affection for Seth in that obscure role was what helped make him the star he's become, but I've yet to receive a thank you.
In addition to Segel and Rogen, Freaks & Geeks also had the remarkable casting of 3:10 To Yuma
's Ben Foster as a mentally challenged student and Num3ers star David Krumholtz as the older brother of one of the geeks. But the stand out performances were by Martin Starr as geek extraordinaire Bill Haverchuck, Sarah Hagan as Lindsey's nerdy prudish former friend Millie, and Dave Allen as hippie guidance counselor Jeff Russo.
There are far too many memorable and hilarious scenes to recount in one review, but my personal favorites are Nick (Jason Segel) serenading reluctant girlfriend Lindsey with his "Lady L" power ballad, Lindsey dancing alone to Grateful Dead's American Beauty
album in the finale, and especially Bill going trick-or-treating as the Bionic Woman in the Halloween episode.
One of the best lines in the series is in the pilot, courtesy of Lindsey's father (shortly after claiming that a girl in his high school died after having sex): "You know who used to cut class? Jimi Hendrix. You know what happened to him? He died. Choking on his own vomit."
Buy DVD set @ Amazon