There's been some chatter online about Scarlett Johannson's
upcoming album
of Tom Waits covers. I have yet to hear any songs from the album, though I've read some unfavorable comments about it. But even if Scarlett's take on Waits is good, I can't imagine anyone doing his songs as much justice as Canadian jazz singer Holly Cole did on her 1995 release
Temptation
. Cole possesses the rare voice blessed with both the depth required to successfully tackle Waits material and richness to fill the songs with new life.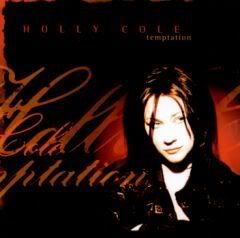 My favorite tracks on Temptation are "Jersey Girl" with its infectious "la la la la la la" refrain and the sensual "Tango Til Their Sore". I was fortunate enough to hear Holly sing both songs at Mountain Stage in 1998, and her live performances were just as sultry as the studio recordings.
Another highlight is Cole's expressive rendition of "I Don't Wanna Grow Up", which can bring tears to my eyes if I'm in a certain mood. I've often included the track on mixtapes to introduce new friends to the "best of" my taste in music.
"(Looking For) The Heart Of Saturday Night" is probably the easiest, prettiest of Waits songs for any artist to cover – I also enjoyed Shawn Colvin's version on Cover Girl
– and Cole's is no exception. Though a couple of the songs – particularly "Train Song" and "Temptation" – fall a little flat, Cole makes up for it by unleashing her pipes on "Falling Down". And her quietly beautiful rendering of "The Briar And The Rose" serves as the poignant finale.
I was not granted permission to share an mp3, but you can hear clips at the Amazon link.
Buy CD or Mp3s @ Amazon