Though Scottish singer-songwriter Paolo Nutini's debut album
These Streets
was originally released two years ago, I had not heard his music until I caught his performance on PBS' Austin City Limits last year and only recently got a copy of his CD. Paolo's voice has a robust throatiness akin to
Ben Harper
and is the driving force behind his music, but he also has a knack for embellishing his arrangements with strings in a way that calls to mind
Alejandro Escovedo
.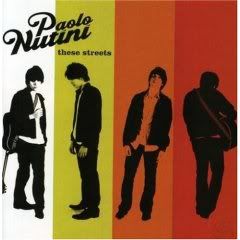 "Jenny Don't Be Hasty" opens the disc with blend of Americana aesthetic and pop contagion, pairing Paolo's textured voice with a catchy melody accented with emphatic guitar and handclaps.
"Last Request", the surging orchestra accompanied stunner "Rewind", and the piano laced retro R&B style of "Million Faces" dip into a more soulful sound that greatly compliments Paolo's rich and expressive voice.
The acoustic rumination "These Streets" slides into the more upbeat "New Shoes". Paolo's flawless voice reaches another level of beauty as it glides along the cello and piano arrangement of "White Lies" and again in the exquisite "Autumn", a requiem for Paolo's grandfather.
I was not granted permission to share an mp3, but you can hear samples at the links below.
Buy @ Amazon