Singer-songwriter Brooke Miller comes from Canada's Prince Edward Island, but her music often embraces the dusty twang of Americana and country as well as the soulful spirit of folk, jazz, and blues. When Brooke was just twelve years old, her former band Bleek was opening for a then unknown Modest Mouse in Canada. The title track from her new album
You Can See Everything
was featured on Showtime's
The L Word
and Brooke will soon be performing at
Mountain Stage
with
Punch Brothers
,
Bell X1
, and
Paddy Casey
.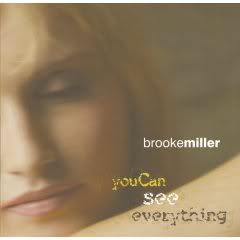 Songs such as the opener "World On A Whim" and "Country From The Dome Car" have upbeat country strums, but the softer prettiness of tunes like "You Can See Everything", "There You Are" (both the orchestral version and the bonus "naked" take), and especially "Hold On To It" – which places the plight of small town farmers and homeless people within a circus parable – better suit Brooke's alto.
The delicate instrumentation of "Two Soldiers" underscores the sad reality of the two narrators' conscientious objection to their military assignments, while "Everywhere" dips back into slow acoustic with the lightest hint of jazz.
The melody of the finale "A.M. Song" came to Brooke in a dream she had about a cowboy playing lap steel in a bar. It would seem that cowboy was Brooke's husband Don Ross, who contributes lap steel, piano, mandolin, and other instruments to the album. The dream born song was what first brought the couple together, when Don heard it played on CBC Radio and called the station to find out who was singing. Now that's a love story that should inspire a song.
Brooke Miller – Hold On To It (mp3 expired)
Brooke Miller – Two Soldiers (mp3 expired)
Brooke Miller Official Site
Brooke Miller MySpace
Buy CD