Allison Crowe
was kind enough to spare some time from her busy tour schedule to answer some questions regarding her career, interests, and her latest release
Little Light
. You can read my review of the CD
here
and the email interview with Allison is below.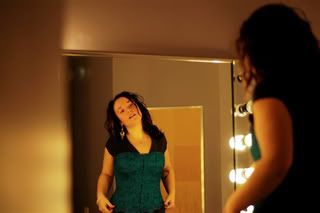 What is the first song you remember singing?
The first song that I can remember singing was either Fading Like a Flower by Roxette, or, A Part of Your World from The Little Mermaid.Both of these would have been to myself, or in my parents' car.
Tell us about your new album, Little Light. Any specific song inspirations or other back stories that you'd like to share (from this CD or any previous release)? In particular, what fueled the lyrics of "Disease"?
Disease was fueled by my own experience with eating disorders and feeling the pressure to be "perfect" in some sort of bizarre societal standard. The song used to sound a lot different, too! The way I play it now was fuelled by some irritation at one of the shows I did a few tours ago, and it really worked out, so that's how you hear it today! hehe
Was there a particular direction or style you were aiming for with this album and if so, do you feel that you achieved it?
I dont think there was a particular style or anything for this album in mind that I was shooting for before I got going with it, but in the end, it made a nice mix of new songs, slightly older songs, and live tracks along with the rest of the album. I knew that I wanted to put a collection of songs together and was trying to think of how to do that when I realized that the songs were already there! :o)
What is the songwriting process like for you? Do the lyrics and music come to your separately or as a whole? Do you tool with songs over time or feel you shouldn't mess with your initial inspiration?
The songwriting process for me is ever-changing. Sometimes I have words that I want to put to music, sometimes I have melodies that I want to add words to, sometimes I have a bit of both that I put together and then change accordingly, or not. And sometimes I write something and come back to it much later to finish. I guess it just goes differently each time! There's no constant element apart from inspiration -whenever it comes.
Are your songs mostly fictional or autobiographical?
I'd say they're mostly autobiographical, a bit non-fiction, and occasionally a bit of fiction, and maybe a bit of documentary 🙂 hehe
What is your favourite song that you have written?
Hmmm… hard to say. I dont really think of my own songs in those terms! 🙂 Lately I am enjoying playing a song called "Happy People". "Disease" is a lot of fun to play for the piano part, for sure.. My song choice is another thing that is ever-changing it seems!
Who were your musical inspirations, and how have their influenced you as a singer and musician?
Pearl Jam, Counting Crows, Ani DiFranco, Tori Amos, all sorts of Jazz including Chet Baker and Nina Simone, Joni Mitchell, Leonard Cohen, my family (extended and immediate), Beethoven, my teachers, more recently Edith Piaf… they've each influenced and inspired me in some way 🙂
You are probably best known for your cover of Leonard Cohen's "Hallelujah". Have you received feedback from any of the artists whose songs you've covered?
I haven't had direct artist feedback so far on any of the covers, but that would definitely be cool! Matt Good's Mom I believe liked my cover of Running For Home.. let me double check that one with Adrian!
From Allison's manager, Adrian: "Matthew Good's Mom had some very kind words of appreciation: 'What a beautiful voice..Allison brings a refreshing interpretation of one of my favorite songs, made my heart ache.' And, there has been word from folks who work with the artists being covered. We did hear from Leonard Cohen's manager – when Allison first released her Tidings recording. Alley's cover had found its way back to Leonard Cohen's circle via a Finnish based website that is really the best resource online for all things LC. It was really wonderful and inspiring at the time, as his "people" stepped in to make it possible for Allison to perform "Hallelujah" live for a tv special – that, actually, begat the Tidings DVD. (Now, sadly, since those days, we've learned of mismanagement and malfeasance in that same camp – which has resulted in losses to Mr. Cohen in the millions of dollars.) The Canadian agent/booker for Pearl Jam has also let his feelings be known to Allison about how he hears her and EV as coming from the same place. Such words are deeply appreciated. Counting Crows management at one point also let me know they dig Allison's covers – but, no Adam Duritz or other artist direct email yet…"
(back to Allison…)
What song would you love to cover that you haven't already?
There are so many songs it's hard to pick just one! There's a really cool new song by Counting Crows called le Ballet d'or… Milord by Edith Piaf!
What is your favorite song of all time?
I can't really pick one song, there are so many for so many different reasons!, but one of my favourite albums at this moment (and maybe because I saw his solo concert, too, recently) is the Into the Wild soundtrack by Eddie Vedder.
From Allison's manager: "There's also some songs Allison has identified in the past as being favourites in specific genres or sounds/styles – in the classic rock vein, she tapped "The Ocean" by Led Zeppelin, "Me and Bobby McGee" and "Piece of My Heart", Janis Joplin, "The Weight" by The Band, and "All Along the Watchtower" – the Jimi Hendrix version. When it comes to jazz, she's no narrower than picking albums – topped by "I Never Loved a Man (The Way I Love You)" by Aretha Franklin, several albums by Chet Baker, and others that include Nina Simone's take on "My Baby Just Cares for Me" and Gabrielle Goodman's "In Love in Vain"."
(back to Allison…)
When performing in front of an audience, do you feel more comfortable performing covers or your own songs?
I think this depends on the audience… sometimes people prefer covers, sometimes originals, sometimes both! Personally I like to perform ANYTHING.
You successfully tackled Aretha's "I Never Loved A Man (The Way I Love You)" on This Little Bird. Any chance you'll delve into more soul, blues and R&B music in the future? What other styles or genres would you like to explore?
I would definitely love to do some more soul or blues! Maybe a bit of jazz in the future, too. Last night, in Vienna, I sang God Bless the Child with a jazz band. I really love bluegrass but have never tried it.
What current singers and bands do you like, and who would you like to collaborate or duet with?
Eddie Vedder, Glen Hansard, Tori Amos, Ani DiFranco (some repeats here!), Ray Lamontagne, Ryan Adams, the Scissor Sisters, Counting Crows… the list goes on, and is pretty random! I'd love to duet with Eddie Vedder. He's about to be in the next question.
Who performed at the first concert you attended, and what was your best concert experience?
My FIRST first concert I believe was Ray Charles in Nanaimo, B.C. at the Civic Arena and my favourite concert so far was sitting up front at Eddie Vedder's solo show (the tour launch in Vancouver last month). Have I mentioned Eddie Vedder? hehe
What is your favourite book? Film? Television show? Work of art? Website?
I love the Avalon series of books by Marion Zimmer Bradley. I love movies based on comic books, one of my favourite recent-ish movies though was the Painted Veil. I love ALL the Lord of the Rings movies and have watched them in regular and extended versions too many times. My favourite tv shows are 24 and CSI (the original CSI!). I love the print/lithograph Tourneé du Chat Noir. My favourite website changes pretty regularly! MySpace is fun, of course!
The plethora of mp3s available for download on your own site seems to indicate that you are a supporter of file sharing. Do you think artists and/or labels should have a say in where their songs are posted online, or do you think all music should be public domain?
I think artists should have a say in EVERYTHING that they do, personally. If they want their songs online as MP3s, I say they should be allowed to have them up, and if they don't, then vice versa. I support my own being out there for sure, because it helps get the music into the world!
After so many years of releasing music through your own independent label, would you consider signing with a major label now if you were offered a recording contract?
I've had a few different offers and experiences, and independent is the way I choose to go because of the freedom it offers in so many ways. It's a lot of hard work but at the end of the day, what I choose to do is what I choose to do. If some sort of opportunity that made a perfect fit for what I wanted to do came along with another label then that would be one thing, but until or unless that time comes, I remain as I am! :o)
Do you have any plans to sign other artists to Rubenesque Records?
Not as of yet! :o) But again, these things can always happen.
Did you always want to be a musician or did you have another career in mind? Do you have any other hobbies or talents you'd like to share?
I love being on stage in general so I always wanted to either be in music, in theater, or in musical theater. Not very broad I suppose, but I knew what I wanted to do! When I was very little I thought I might want to be a dentist or a vet, though, I would have probably annoyed people by constantly singing at the offices soooo this was probably the best choice.
What is one thing you would like people to know about you as a person? As a musician?
I guess that I'm just a person, really! I still get nervous around people I look up to, and I can be really REALLY akward, and then I act out, often loudly. And that's how I ended up doing what I do.
What was the weirdest or funniest experience you've had on tour?
This one question could fill up an entire novel. The craziest time was on my first national tour and sharing a motorhome with 8 people in the middle of summer. Hilarity essentially ensued as we trucked it all the way across Canada and back from Vancouver Island, and there was actually suprisingly little cabin fever! At one point, though, a tire blew and ruptured something in the plumbing… a couple days later we all felt very ill and eventually realized that the sewage and air-conditioning lines had crossed. And in the 40 degree heat the waste in the tank had converted in to something of methane gas. Good times.
What are your plans for the future?
To keep playing music! And, clearly, to sing with Eddie Vedder. :o) LOL Oh you mean real plans… well, to keep playing music everywhere that I can!