Starting Out in the Evening
is the most captivating, intelligent, and romantic movie I have seen since Richard Linklater's
Before Sunset
. This quietly stunning film stars
Six Feet Under
's Lauren Ambrose as Grad student Heather Wolfe, who is writing her thesis on Leonard Schiller (Frank Langella), the reclusive novelist whom she adores.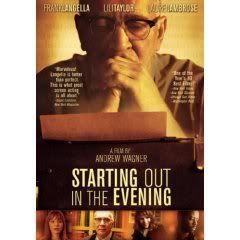 Being the bookworm that I am, I greatly enjoyed the dialogue revolving around renowned authors and novels. As Langella's character remarks, it's simply refreshing to encounter a young person (even a fictional one) who actually reads. Lauren Ambrose is absolutely charming as the bright and bold Heather, and I believe she may be the most beautiful and talented actress of my generation.
The film also contains a fascinating examination of the painful transition from enthusiast to critic, as well as the tempestuous relationship that exists between critics and artists. The brewing conflict finally comes to the fore during the pivotal scene in which Wolfe voices the unreasonable expectations we as fans often have for the work of our most beloved artists – be they authors, filmmakers, or musicians – and Schiller reacts with the righteous frustration of an artist whose creative freedom and evolving talent has been called into question by a demanding admirer.
The secondary plot involving Schiller's daughter Ariel – played by Lili Taylor of I Shot Andy Warhol
and Say Anything
– and her rekindled romance with Casey (Adrian Lester of Primary Colors
and Love's Labour's Lost
) is at first merely a pleasant diversion, as the most mesmeric scenes are those of the two magnificent main characters. But as the central storyline moves painfully toward its conclusion, the dynamic between Ariel and Casey becomes much more compelling.
However, what I love most about this film is the sweet sexual tension that simmers between the brazen young Wolfe and hesitant, weary Schiller. The most sensual scenes possess the subtle artistry of classic films – such as the obvious effect that Wolfe's innocent removal of her boots and subsequent revealing of her ankles has on the aging novelist. I hate to spoil the film for those who haven't seen it yet, but I personally think that the tableau in which Schiller hovers his hand over Wolfe without actually touching her is one of the most erotic and emotional moments in cinematic history. Even the simple act of Schiller taking Heather's hand and touching her hair is full of such graceful passion that the kiss that follows seems anti-climatic.
Buy DVD @ Amazon