Maria Doyle Kennedy is an Irish actress and singer best known for her roles in
The Commitments
(along side a babyfaced
Glen Hansard
),
The Matchmaker
,
Father Ted
,
Queer as Folk
, and most recently for her astounding performance as the formidable Queen Katherine in
The Tudors
. Maria's third album
Mütter
(the German word for "mother") was released last year on her own independent record label Mermaid Records. While many of the tracks were inspired by Chuck Palahniuk's book
Diary
, the album also features a song co-written with Fergus O'Farrell of
Interference
.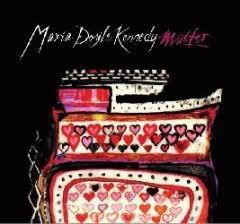 secret lines of suffering, conduit of skin and bone
sit you down and draw you in, showing you the double edge of keening
I wasn't sure what to expect from Maria's music, but I certainly did not imagine the swirling, moody pop and ambient folk that shrouds her voice on so many of the songs. The opener "Unbelievable" slips a softly atmospheric melody beneath Maria's rich vocals. The seductive throaty rustle of Maria's voice cannot easily be compared to anyone else.
The stand out tracks "Mother" and the quieter "Stuck" dip into a darker tone that blends eerie verses with sweeping strings and voxes on the chorus. The instrumentation of the tracks remind me of the more delicate elements of Mazzy Star with a touch of Belly's debut
. Meanwhile, the churning bass of "Fuckability" recalls early PJ Harvey.
Interference's Fergus O'Farrell co-wrote the more earnest "Call Me". "Here You Come" and "Forty Days" return to the muted, airy pop of the opening tracks, this time tempered with the lightest hint of blues. The simpler acoustics of the finale "Swoon" are refreshing, finally allowing Maria's voice to fully take the spotlight. I'd like to hear Maria's lovely voice free of so much production, but it's an unquestionably good album nonetheless.
Maria Doyle Kennedy – Mother (mp3 expired)
Maria Doyle Kennedy – Call Me (mp3 expired)
The album is currently only available for purchase through Maria's website.
Maria Doyle Kennedy Official Site
Maria on MySpace