Purpose
is the debut album from neo-soul singer Algebra Blessett. Formerly a backup singer for Monica and Bilal, the Atlanta native taught herself to play guitar and honed her voice at various open mic nights. Her music is mostly mellow soul and R&B similar to India.Arie's sound, but there are also elements of pop, funk, and crunk.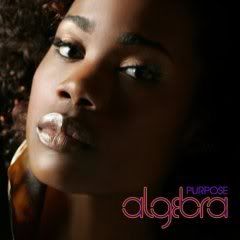 Songs like the opener "At This Time" as well as the closing tracks "Come Back" and "Now & Then" are slow, romantic ballads that show off the rich tone of Algebra's voice. The more interesting "Halfway" splashes some brass over beats and scratches, while "Run & Hide" finds a balance between the sensual groove of the opening track and the fluttering beat of the preceding track.
The retro soul interlude "Holler Back" hints at Erykah Badu, but the deviation in style is far too brief. Though Algebra's voice is pretty, the arrangements in the middle of the album seem mostly filler. Then "What Happened?" and the stand out "I Think I Love U" shake things up again, calling to mind Alice Smith's bewitching brand of pop-funk.
Algebra – Run & Hide (mp3 expired)
Buy @ Amazon