A Distant Bell
was the third solo release from singer-cellist Caroline Lavelle. Though Lavelle herself is British, her music often hints at her mother's Irish heritage. She has recorded with Radiohead, Muse, Loreena McKennitt, BT, and Massive Attack. She has also played with The Chieftains – I attended one of their performances a few years ago that also featured
Allison Moorer
. I first heard Caroline's mesmeric voice singing "Dream Of Picasso" from her debut
Spirit
on NPR's World Cafe in the early 1990s. Unlike the moody electronics of
Spirit
, many of the songs on
A Distant Bell
possess a lighter, more traditional folk sound. In either case, it's Caroline's rich voice that is most captivating.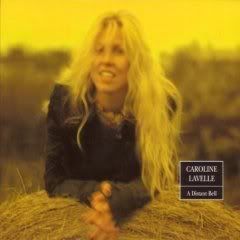 "Gently Johnny" opens the album, while an extended version of the song serves as the finale. Caroline modernizes the classic tune with a softly seductive string and electric guitar arrangement featuring The Scottish Festival Orchestra. The gentler "Innocence Sleeping" is an eerily quiet lullaby with words from poet Brian Patten.
It's the almost a capella rendition of the traditional "Banks of the Nile" that truly grabs the attention with only the faintest trace of instrumentation under Caroline's warm vocals. The tempo finally picks up a bit with Lavelle's enchanting original "No More Words", which seems to stir elements of a merry old Irish jig into a Medieval folk style.
The changing seasons of Caroline's voice beautify the simpler melodies of "Too Late" and the traditional "The Trees They Do Grow High". Lavelle shows off her cello talent on the haunting instrumental "Farewell To Music". Other tracks are pretty and mellow, but don't seem to have enough life in them to really stand out.
Caroline Lavelle – No More Words (mp3 expired)
Carolina Lavelle Official Site
Carolina on MySpace
Buy @ Amazon