Irish singer-songwriter Damien Dempsey is a smart man. Instead of trying to top or even replicate last year's insanely brilliant
To Hell Or Barbados
– which at my second
favorite album of 2007
– Dempsey went in a completely different direction for his fifth studio album
The Rocky Road
. A collection of eleven traditional and contemporary Irish covers, the album features guests John Sheahan and Barney McKenna of The Dubliners and serves as tribute to Irish singers like Christy Moore, Pecker Dunne, Frank Harte, Luke Kelly, and Shane McGowan of The Pogues. Damien's deep, melodic voice is perfectly suited to these classic tunes.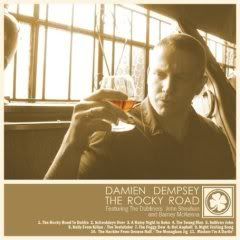 then off to reap the corn, leave where I was born
cut a stout black thorn to banish ghost & goblins
me brand new pair of brogues I rattled o'er the bogs
& frightened all the dogs on the rocky road to Dublin
In addition to singing lead vocal, Dempsey plays guitar, banjo, and bouzouki. Sheahan lends his fiddle to the album, while McKenna contributes banjo and mandolin. Both provide backing vocals. Sharon Shannon and other musicians toss in fiddle, whistle, flute, bodhrán, harmonium, and other traditional Irish instruments.
My favorite version of "Rocky Road To Dublin" is the high octane Celtic Punk twist by Dropkick Murphys. But the rhythmic title track to Damo's album is definitely my favorite of the more traditional takes. A soulful vocal on Ewan MacColl's "Schooldays Over" is followed by a beautiful rendition of The Pogues' "A Rainy Night In Soho".
Damien's a cappella performance of "The Twang Man" is so powerful and resonant that I think the entire album would be even more captivating without any musical accompaniment at all. His hearty vocal of the Wexford rebellion anthem "Kelly From Killian" merges with the livelier instrumental "The Teetotaler", while the moody "Hackler From Grouse Hall" is paired with "The Monaghan Jig".
It would be difficult for even the weakest of voices to mar the timeless "The Foggy Dew", but the astounding potency of Dempsey's vocal grants the haunting classic even more integrity and beauty. The mandolin steals the spotlight on the lovely "Night Visiting Song", and a subdued but hypnotic rendering of "Madam I'm A Darlin'" serves as the album's finale.
the bravest feel & the requiem bell rang mournfully & clear
for those who died at the Eastertide in the spring time of the year
the world did gaze with deep amaze at those fearless men, but few
who bore the fight so that freedom's light
might shine through the foggy dew
Damien Dempsey – The Rocky Road To Dublin (mp3 expired)