Heather Nova's 1994 release
Oyster
remains one of my favorite albums. I had never heard of her before I found a single cassette tape of the album shoved between more popular titles at the local Kmart…one my ways for discovering random new music before the internet. That was in the post-grunge, "alternative" band era (who woulda thought Green Day and Weezer would last so long?), before Lilith Fair made the female singer-songwriter movement of the 1990s the punchline of many jokes. Nova's melodic music, the brutal honesty of her lyrics, and especially her beautifully unusual voice seemed like a whole new genre at that time.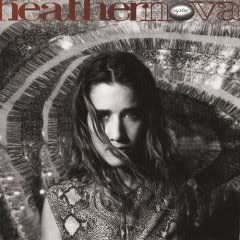 when you got me pregnant, I stopped the party and I
stopped the typewriter and I stopped
your dumb ball game in the red barn
and I stopped your father and bled instead
and I felt the lie – something sticky on the inside
a bitter wind in my throat, stopping me wanting, in my stomach
The catchy pop opener "Walk This World" was probably Heather Nova's most commercially successful song, though it certainly didn't make hers a household name despite her music later being featured on shows like Party of Five
and Dawson's Creek
.
It's the ballad "Heal" that truly begins the album for me. It has a simple yet mesmeric melody that floats on the angelic softness of Heather's voice. "Island" follows in a similarly low tone with a stronger dose of utter heartbreak and domestic trauma in its melancholy lyrics.
The deceptively quiet opening verse of "Sugar" seems at first to be resurrecting that same sweet sadness, but the song (quoted above) is soon ripped open by a burst of guitar as Nova unleashes the anguish of loss and anger of a woman done terribly wrong.
The airy melody of "Walking Higher" is coupled with lyrics that seem to be a dirge for a lost loved one, while the finale "Doubled Up" is a purely poetic love song. Comparatively, other songs like "Throwing Fire At The Sun, "Maybe An Angel", and "Light Years" mostly seemed like filler. But as time has gone on, I've grown to appreciate at least the quality of Heather's vocals if not the songs in their entirety.
the bones they buried will feed the trees
but every word you ever spoke is still in me
and could I be walking higher
could I be right beside her?
I could not obtain permission to share an mp3, but you can hear samples at the links below.
Heather Nova Official Site
Heather on MySpace
Buy @ Amazon