I'm always puzzled when certain female singer-songwriters receive mainstream popularity and media attention while others like seventeen year old Lucy Schwartz remain in the shadows. Lucy's voice as well as her melodies are pretty, and in some cases damn catchy. She plays a superior brand of what would probably be deemed a commercialized pop and acoustic sound if she were more famous. Oh and did I mention her voice was used in Arrested Development
?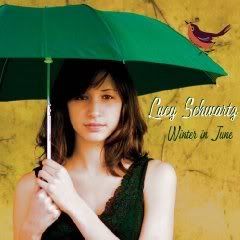 Tracks like the opener "I Don't Know a Thing" and "Blue Sky" are airy pop melodies that could easily compete with Sara Bareilles in a catchiness contest. "Crooked Box", "High Above", "Pushed and Pulled", and the finale "June" are slightly moodier ballads. These are the kind of dreamy ballads and infectious pop songs that would have been gushed forth by WB teen dramas like Dawson's Creek
and Felicity
in the 1990s.
"Paper Plane" and "Face Down" stand out by splashing piano pop with a surprising hint of jazz in a way that recalls Fiona Apple's debut Tidal
, and "Strange Feeling in the Night" has a more interesting quirkiness that reminds me a little of Gabriela Kulka.
Lucy Schwartz – Paper Plane (mp3 expired)
Lucy Schwartz – Strange Feeling in the Night (mp3 expired)
Buy @ Amazon