Holy crap, Reverend Peyton's Big Damn Band is back!
The Whole Fam Damnily
will be released on August 5th. The follow up to
Big Damn Nation
perpetuates The Rev's inebriating concoction of swamp stomp and backwoods pluck, but this time the vocals and lyrical content seem a bit more focused. Looks like
The Felice Brothers
finally has a true competitor for my favorite album of the year.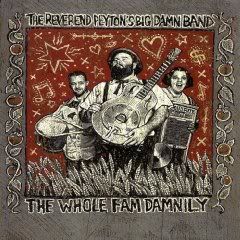 Lord keep me well, Lord keep me well
Lord keep me well, Lord keep me well
I can't get ill, no I can't get ill
'cause I can't afford to pay the bill
As if the thunderous rumble of "Can't Pay The Bill" wasn't riveting enough, the lyrical lament about the inability to afford health insurance strikes at the heart of us poor country folk. The ode to homecooking "Mama's Fried Potatoes" lightens the mood and emphasizes the twang of the banjo and washboard.
The rhythm of "Worn Out Shoe" sounds strangely similar to Soul Asylum's "Black Gold", though the rustic instrumentation and the Rev's full-throated wail provide a clear distinction. The foot tappin' twister "DT's or The Devil" recalls the ruckus of Big Damn Nation's "Boom Shank".
The harmonica sloshed "Your Cousin's On Cops" (inspired by the arrest of Breezy's cousin) is the stand out track, placing the band's signature hillbilly racket under a humorous lyrical commentary on redneck life. "Walmart Killed The Country Store" is another favorite, but is far from parody for those of us that have watched our beloved hometown stores die at the hand of the discount giant.
The quasi ballads "John Hughes (The Water Tower's Heart Is Sore)" and the bluesy "What's Mind Is Yours" take a surprisingly serious turn, but "The Creek's Are All Bad" and the finale "Persimmon Song" whirl right back into the happy hootenanny.
Reverend Peyton's Big Damn Band – Your Cousin's On Cops (mp3 expired)
Reverend Peyton's Big Damn Band Official Site
The Rev on MySpace
Buy @ Amazon