Somewhere
is a new collection of Eva Cassidy recordings that will be released on August 26th. I've mentioned my adoration of Cassidy's astonishing voice many times over the years, particularly on her covers of "Autumn Leaves" and "Fields of Gold". Eva died of melanoma in 1996 at the young age of 33, unaware of the fresh cult of fans that would hungrily consume her posthumous releases –
Songbird
reached #1 on the British charts five years after her death. The new album features a selection of previously unreleased covers and two original songs co-written by Eva.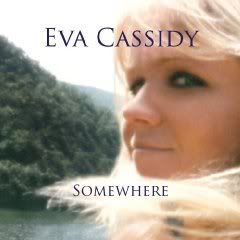 is time my redeemer?
loneliness my only friend?
just once in a lifetime
strangers share a common end
Somewhere opens with a gentle rendering of Dolly Parton's "Coat Of Many Colors". More beautiful is the traditional Scottish song "My Love is Like a Red Red Rose", as Eva's voice glides effortlessly from the softest tones up into that chill producing stratosphere that only her voice could reach.
Cassidy shifts into a bluesier depth sprinkled with a few Aretha wails on "Ain't Doin' Too Bad", then tackles Franklin's "Chain of Fools". The Queen of Soul remains the sole owner of the classic tune, but Eva's howling cover came as close as anyone ever did at succeeding the throne.
"Won't Be Long" blooms from tinny rock-a-billy to robust blues, followed by a sultry Texas swing rendition of Patsy Cline's "Walkin' After Midnight". "A Bold Young Farmer" is another lovely, melancholy traditional ballad. Eva gives "Blue Eyes Crying In The Rain" a delicately emotive treatment, while her cover of "Summertime" is an airy piece of acoustic accented jazz.
"Early One Morning" and the album's title track are the first two songs co-written by Eva Cassidy that have been unearthed so far. The former is the stunner on the album, as Cassidy and co-writer Rob Cooper culled lyrics from a traditional English folk song and transformed it into a haunting piece of Delta blues. The latter serves as the album's atmospheric finale.
I was not granted permission to share an mp3 from the album, but you can hear samples of each track here.
Buy @ Amazon