Joan Osborne
's lovely new album
Little Wild One
will be released on September 9th. After delving into country for 2006's
Pretty Little Stranger
and reaching back into retro soul for last year's
Breakfast in Bed
, Osborne reunited with the producers of her brilliantly bluesy debut
Relish
(I also recommend her grittier
Early Recordings
) for the recording of the new album. The result is Osborne's best work in years, and sure to be an enduring favorite of mine.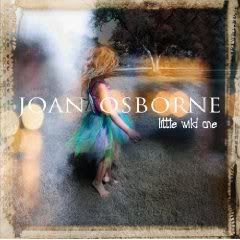 "Hallelujah In The City" is a softer start than I expected from the reunited Relish team, but it's surely a pretty one and one of the stronger tracks on the album. I love the choir effect toward the end of the song, and Joan's impressive vocal range on the chorus makes me wish she'd try a cover of Leonard Cohen's "Hallelujah". "Sweeter Than The Rest" is more of a pop ditty in comparison, but there's a surprising hint of retro Carly Simon in the melody.
Joan covers Jump Little Children
's "Cathedrals", one of my favorite songs of all time. I prefer Osborne's beautiful, true-to-the-original take over Heidi Talbot's faster tempo version. I hope I get to hear Joan sing this one live someday, because I can only imagine how much more powerful her voice will be without so much production smoothing it down. Having already seen her perform at Mountain Stage, I know for a fact that her voice is more than capable of shaking some rafters.
"Rodeo" leans back into the Pretty Little Stranger country style that isn't my favorite fit for Joan's throaty voice, but the moody torch song "To The One I Love" immediately points the album back in the right direction. The latter song and the album's title track are sultry slow burners.
The lilting ballad "Daddy-O" is a refreshing original that sounds like a modernized Irish sea chantey (even my Irish hubby asked if it was a new song because he thought it "sounds Irish"), and the finale "Bury Me On The Battery" embraces that bluesy, quasi gospel tone that brings out the best in Joan's phenomenal voice.
Joan Osborne – Hallelujah in the City (mp3 expired)
Joan Osborne Official Site
Joan Osborne MySpace
Buy @ Amazon