Lin Enger's debut novel
Undiscovered Country
is a modernized retelling of Shakespeare's
Hamlet
set in small town Minnesota. It's a shame that the other Minnesota set
Hamlet
reiteration (the mind-numbingly boring, long winded, and canine obsessed
The Story of Edgar Sawtelle
) is receiving so much more attention and praise.
Undiscovered Country
is superior in that it successfully captures the melancholy and dramatic atmosphere of
Hamlet
, yet the plot is fast paced with characters that are both interesting and human. The novel is so well written that it would be just as compelling even with no allusions to the Bard's tale.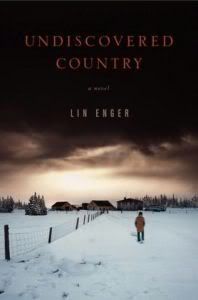 Undiscovered Country is told in hindsight as the protagonist Jesse records the events surrounding the death of his father during a hunting trip a decade after it happened. While waiting for the coroner to rule on whether the shooting was a suicide or an accident, we are introduced to Jesse's vamp of a mother Genevieve and his covetous uncle Clay. Like Hamlet, Jesse believes he sees the ghost of his father while we the readers are left to wonder if it is merely a symptom of his own grief stricken madness. The vision plants a suspicion in Jesse's mind that soon evolves into obsession, and Jesse is driven to seek the truth as well as vengeance from his uncle.
There's a side plot involving an Ophelia inspired romantic interest, but it's Jesse's inner turmoil as well as his interactions with his vixenish mother and possibly villainous uncle that are most riveting. This is the rare novel that contains two climactic scenes – the first and most of tense being the claustrophobic confrontation in Clay's ice fishing lodge. Whether you're a Shakespeare fan or not, I recommend Undiscovered Country if you want to read a strong and suspenseful drama.
Buy @ Amazon