The SteelDrivers' self-titled debut livens up the bluegrass instrumentation of banjo player Richard Bailey, Mike Fleming's upright bass, mandolinist Mike Henderson, and fiddler Tammy Rogers with howling Delta blues vocals courtesy of lead singer-guitarist Chris Stapleton. The album was recorded completely live in "one big room" with no overdubs, which captures the energetic style and raw power of the band's recent performance at Mountain Stage.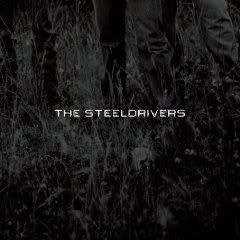 "Blue Side Of The Mountain" lets you know from the beginning that The SteelDrivers are no mere bluegrass band. The opening verse simmers with a hard strum and Chris Stapleton's bluesy growl before a plucky multi-instrumental burst heralds Tammy Roger's pretty harmony.
"Drinkin' Dark Whiskey" would be a more straightforward country song save for the sweet sound of fiddle and mandolin. Meanwhile, "Midnight Tears" and "If You Can't Be Good, Be Gone" possess the kind of pure vocal harmony and bluegrass instrumentation that should charm Del McCoury fans.
"Midnight Train To Memphis" and the moody ballad "If It Hadn't Been For Love" are my favorite tracks on the album, as both yield to the band's bluesier side and allow Stapleton to really wail. The murder ballads "Hear The Willow Cry" and "To Be With You Again" are also stunning.
I was not granted permission to share an mp3, but you can hear samples at the links below.
The SteelDrivers Official Site
The SteelDrivers MySpace
Buy @ Amazon